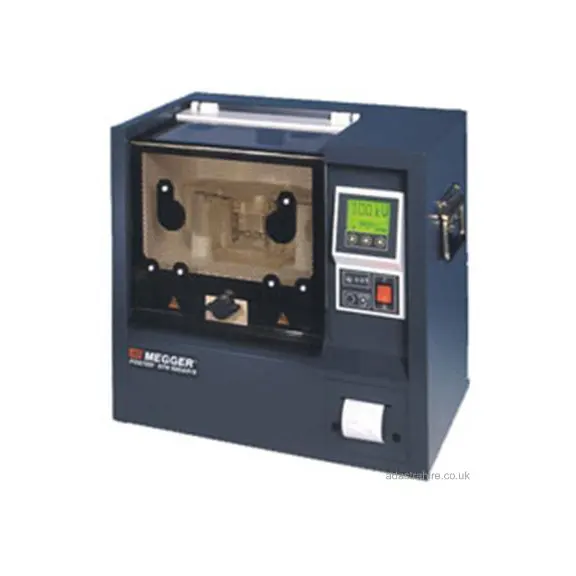 The OTS80AF/2 is laboratory instrument with many advanced features. It offers fully automatic operation plus the benefit of a built in printer to produce a hard copy of the test results and the ability to program up to five user defined tests for individual applications. The withstand test can be set to operate at any test voltage and with an initial stand time.
The dot matrix liquid crystal display can also be set to read in one of six languages. An oil test vessel, configured to suit the IEC156 test specification, is supplied with the instrument. A large, backlit, liquid crystal display shows test menus, set up screens and results. The resolution of the high voltage output is displayed to 0,1 kV. Results can be printed on the internal dot matrix printer or transferred via the RS232 interface to an external printer or PC.
Printouts are automatically time and date stamped. Standard stirring with the OTSAF/2 is achieved by a magnetic stirrer bar. Additional vessels are available optionally, including one suitable for testing to the ASTM D1816 specification. This calls for stirring to be carried out by a motor driven impeller. Each test can be selected with either magnetic stirring, propeller stirring or no stirring.