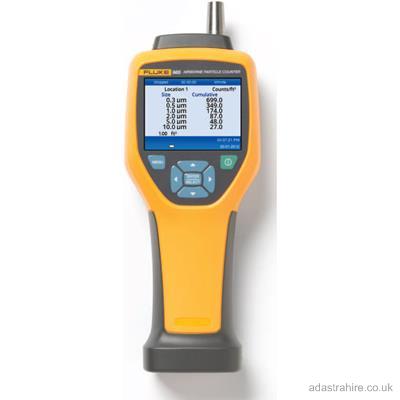 The Fluke 985 Airborne Particle Counter is the preferred choice for HVAC and IAQ professionals. From filter testing to IAQ investigations, the Fluke 985 is the portable solution for determining airborne particle concentrations.

Use the Fluke 985 to immediately respond to occupant complaints, or as part of a comprehensive preventive maintenance program.

With the Fluke 985 you can:
Measure filter efficiency Monitor industrial cleanrooms
Six channels and particle size range of 0.3 - 10.0 µm: Assures accurate measurements even for critical locations requiring ISO Class 5 – 9 certification
Pre-screen indoor air quality and confidently work with IAQ specialists
Locate particle sources for remediation Report the effectiveness of repairs to customers
Drive additional business by demonstrating the need for maintenance and repair
With a large screen, intuitive icons for navigation and on-screen data presentation, the Fluke 985 allows users to run more tests quickly, with less time spent cycling through screens to obtain the data.
The Fluke 985 is lightweight and easy to use in any position and with easy data export options using USB cable, memory stick it's easy to review and analyze the data anywhere and anytime.
Downloads