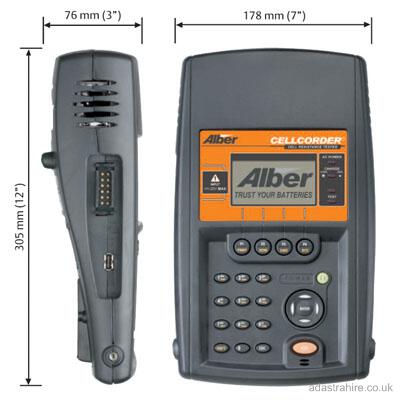 Battery Multimeter Features
Float Voltage Readings -

The Cellcorder measures the voltage applied during full float operation. The voltage range covers all cells or modules up to 20 volts, with accuracy to four full digits. Internal Cell Resistance - Using a patented process, the Cellcorder applies a momentary load and calculates internal cell resistance by determining instantaneous voltage drop and load current. Algorithms make this measurement possible on cells floating on-line or off-line.

Intercell Resistance -

The Cellcorder measures the resistance between two electrically connected cell terminals. The measurement consists of connector resistance and contact resistance at the points of connection to the cell terminals.

Auto Ranging -

The Cellcorder automatically selects the correct voltage range, load resistor, and test time.

Data Extraction and Analysis -

After testing, transfer data to the PC via Flash drive, IR interface or optional Bluetooth. Trending software analyzes test data, displays results in graph or tabulated formats, and saves and prints reports. You may export reports in ASCII, Excel® or comma-delimited format so other programs can generate customized reports.
Downloads