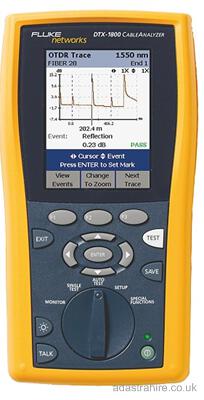 Cat 6 certification in 9 seconds
Certify Cat 5, Cat 5e and Cat 6
The DTX-1200 performs Cat 6certification tests in just 9 seconds – in full compliance with industry standards and with superior accuracy. That's three times faster than existing testers. This incredible speed means you can test upto 170 more links in an eight-hour shift.
Troubleshoot faults twice as fast When a link fails, the DTX Series provides quick, easy-to-understand directions to identify the point of failure (distance from the tester) and the possible reason(s) for the failure. These directions not only tell you the problem, but also identify corrective actions your test technicians can take to solve the problem quickly – all without having to consult the project manager. Instead of spending time executing trial and error corrections – and re-testing to find out whether the problem has been resolved –the technician knows exactly where to look and what to do to fix the failing link. Even if only two percent of the cables certified in one shift fail Autotest, you'll save as much as two hours of labor time per day of certifying. Fast even when you're not testing The DTX 1200 is n't just a faster way to test. It cuts setup and reporting times.
Its ease-of-use lowers training time. Extended battery life means you can do more on a single charge. And a bright color display, ample memory, and built-in talk set all contribute to overall productivity while enhancing the user experience. This all adds up to save you time and money every day.