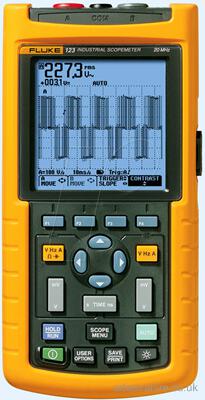 The rugged and compact Fluke 123 ScopeMeter is the ideal solution for industrial troubleshooting and installation applications.
The Fluke 123 is a truly integrated test tool, with oscilloscope, multimeter & paperless recorder in one affordable, easy to use instrument.
Fluke 123 Features:
Dual-input 20 MHz digital oscilloscope.
Two 5,000 counts true-RMS digital multimeters.
A dual-input TrendPlot recorder.
Connect-and-View trigger simplicity for hands-off operation.
Shielded test leads for oscilloscope, resistance and continuity.
600 V CAT III safety certified.
Optically isolated RS-232 interface.
Rugged, compact case.
Dimensions: 232 x 115 x 50mm.
Weight: 1.5kg.