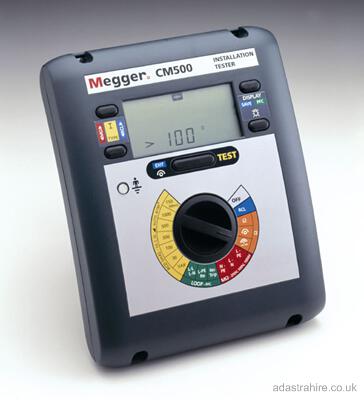 The Megger CM500 is the first installation tester with a non-tripping loop tester guaranteed not to trip any RCD rated 30 mA or above. Its memory and storage capability offers all data to display, download to a PC and on unique on-site print facility.
Megger CM500 Features:
Insulation tests at 250V, 500V & 1000V.
Continuity tests with 200 mA short circuit capability.
Ramp Test for measuring RCD actual trip currents.
Variable RCD test current.
No-trip, Trip and Fast Trip RCD testing.
Phase-Phase, Phase-Neutral, Phase-Earth Loop Tests.
High current Loop Testing with 0,01Ω resolution.
Prospective Earth Fault and Short Circuit Current.
Supply voltage, polarity and frequency indication.
Dimensions: 245 mm x 200 mm x 95mm.
Weight: 1.35 kg.