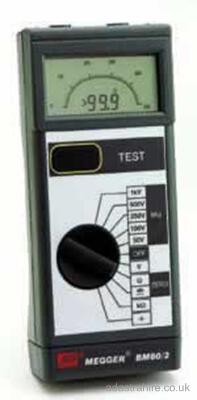 The Megger BM80/2 is a multi-voltage insulation and continuity tester. It has insulation test voltages from 50 V to 1000 V DC.

The analog/digital LCD incorporates the benefits of electronic arc analog indication with unambiguous digital readings. The analog scale helps to make rapid identification of insulation condition, and to monitor variable readings, and is complemented by the precision and simplicity of a digital display.

In compliance with BS 7671, IEC 364, HD 384 and VDE0413 Part 1 and 4, the 250 V, 500 V and 1000 V insulation ranges have a 1 mA test current at the minimum pass values specified.

A continuity buzzer is included on the second continuity range. In addition to the insulation and continuity ranges, the BM80/2 has a resistance range which measures up to 100 k-ohm on the digital scale and up to 10 M-ohm on the analog scale. Due to the low test voltage and current of this range, it can be used to test circuits with sensitive equipment connected, without causing damage.

Two voltage ranges measure up to 50,0 V and 600 V AC or DC respectively, and indicate the presence of negative D.C. A voltage warning is provided in these models, alerting the user to the presence of external voltage greater than 25 V, by displaying the voltage level, even when measuring on insulation and continuity ranges. The voltage range will indicate if capacitive charge remains after a test, and will monitor the automatic discharge.

The BM80/2 is rugged, and therefore suited to toolbag treatment, as well as having an IP54 environmental protection rating which ensures product reliability in wet and dusty conditions. Exceptional battery life is provided by six cells housed in separate battery compartment. The instruments are designed to IEC 1010-1, VDE0411 and BS4743 safety standards.